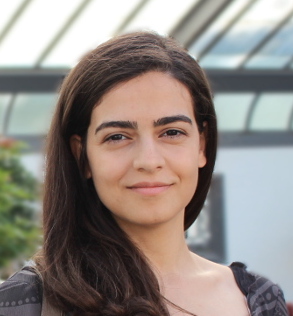 Reihaneh Rabbany
Canada
CIFAR
AI Chair,
Mila
Assistant Professor
School of Computer Science
McGill University
rrabba[at]cs.mcgill.ca
My research is at the intersection of network science, data mining and machine learning, with a focus on analyzing real-world interconnected data, and social good applications.
I have multiple positions in my group (graduate students, interns, postdoc). If you are interested to work with me please check the information here and send me an email.
Refereed Publications
CV , Publication list on google scholar, dblp
Dhivya Eswaran, Reihaneh Rabbany, Artur W. Dubrawski, Christos Faloutsos,

Social-Affiliation Networks: Patterns and the SOAR Model

, Proceedings of the European Conference on Machine Learning and Principles and Practice of Knowledge Discovery in Databases (ECML/PKDD), Sep 2018;
Reihaneh Rabbany, David Bayani, Artur W. Dubrawski,

Active Search of Connections for Case Building and Combating Human Trafficking

, Proceedings of the 24th ACM SIGKDD International Conference on Knowledge Discovery and Data Mining (KDD), Aug 2018;
Reihaneh Rabbany, David Bayani, Artur W. Dubrawski,

Active Link Inference for Case Building Investigation

, NIPS workshop on Advances in Modeling and Learning Interactions from Complex Data, Dec 2017; ( Poster)
Reihaneh Rabbany, Dhivya Eswaran, Artur W. Dubrawski, Christos Faloutsos,

Beyond Assortativity: Proclivity Index for Attributed Networks (PRONE)

, Proceedings of the Pacific Asia Conference on Knowledge Discovery and Data Mining (PAKDD), May 2017; code on github
Reihaneh Rabbany, and Osmar R. Zaiane,

A General Clustering Agreement Index: for Comparing Disjoint and Overlapping Clusters

, Thirty-First AAAI Conference on Artificial Intelligence (AAAI), Feb 2017;
Reihaneh Rabbany, and Osmar R. Zaiane,

Generalization of clustering agreements and distances for overlapping clusters and network communities

, Data Mining and Knowledge Discovery Journal (DAMI), 29(5): 1458-1485, 2015; code on github ECML PKDD Slides ; publisher link
Reihaneh Rabbany, and Osmar R. Zaiane,

Evaluation of Community Mining Algorithms in the Presence of Attributes

, Quality Issues, Measures of Interestingness and Evaluation of Data Mining Models (QIMIE) Workshop, in conjunction with PAKDD, Ho Chi Minh City, Viet Nam, May 2015; ; publisher link
Christine Largeron, Pierre-Nicolas Mougel, Reihaneh Rabbany, and Osmar R. Zaiane,

Generating Attributed Networks with Communities

, Public Library of Science, PLoS ONE 10(4), 2015; ; publisher link
Siamak Ravanbakhsh, Reihaneh Rabbany, and Russell Greiner,

Augmentative Message Passing for Traveling Salesman Problem and Graph Partitioning

, Advances in Neural Information Processing Systems (NIPS), Montreal, Canada, Dec 2014; ; publisher link
Reihaneh Rabbany, Samira ElAtia, and Osmar R. Zaiane,

Mining Large Scale Data from National Educational Achievement Tests: A Case Study

, Data Mining for Educational Assessment and Feedback Workshop in conjunction with KDD 2014, New York City, Aug 2014; ,
Mansoureh Takaffoli, Reihaneh Rabbany, and Osmar R. Zaiane,

Community Evolution Prediction in Dynamic Social Networks

, 2014 International Conference on Advances in Social Networks Analysis and Mining (ASONAM), Beijing, China, Aug 2014;
Afra Abnar, Reihaneh Rabbany, and Osmar R. Zaiane,

SSRM: Structural Social Role Mining for Dynamic Social Networks

, 2014 International Conference on Advances in Social Networks Analysis and Mining (ASONAM), Beijing, China, Aug 2014;
Reihaneh Rabbany, Samira ElAtia, Mansoureh Takaffoli, and Osmar R. Zaiane,

Collaborative Learning of Students in Online Discussion Forums: A Social Network Analysis Perspective"

, Springer edited book Educational Data Mining: Applications and Trends, Springer Series: Studies in Computational Intelligence, 2013, ; publisher link
Reihaneh Rabbany, Mansoureh Takaffoli, Justin Fagnan, Osmar R. Zaiane, and Ricardo J. G. B. Campello,

Communities Validity: Methodical Evaluation of Community Mining Algorithms

, Social Network Analysis and Mining (SNAM) Journal by Springer, 2013; ; publisher link
Mansoureh Takaffoli, Reihaneh Rabbany, and Osmar R. Zaiane,

Incremental Local Community Identification in Dynamic Social Networks

, 2013 International Conference on Advances in Social Networks Analysis and Mining (ASONAM), Niagara Falls, Canada, Aug 2013; (longer version )
Reihaneh Rabbany, Mansoureh Takaffoli, Justin Fagnan, Osmar R. Zaiane, and Ricardo J. G. B. Campello,

Relative Validity Criteria for Community Mining Algorithms

, 2012 International Conference on Advances in Social Networks Analysis and Mining (ASONAM), Istanbul, Turkey, Aug 2012; ; publisher link
Also to appear at the Encyclopedia of Social Network Analysis and Mining by Springer, 2013.
Reihaneh Rabbany and Osmar R. Zaiane,

A Diffusion of Innovation-Based Closeness Measure for Network Associations

, the COMMPER Workshop on Mining Communities and People Recommenders, in conjunction with the IEEE International Conference on Data Mining (ICDM), Vancouver, Canada, December 2011;
Reihaneh Rabbany, Eleni Stroulia, Osmar R Zaiane,

Web Service Matching for RESTful Web Services

, 13th IEEE International Symposium on Web Systems Evolution, Williamsburg, VA, USA, September 30, 2011;
Reihaneh Rabbany, Mansoureh Takaffoli, Osmar R. Zaiane,

Analyzing Participation of Students in Online Courses Using Social Network Analysis Techniques

, 4th International Conference on Educational Data Mining (EDM'11), Eindhoven, Netherlands, July 6-8, 2011, ; publisher link
Jiyang Chen, Justin Fagnan, Randy Goebel, Reihaneh Rabbany, Farzad Sangi, Mansoureh Takaffoli, Eric Verbeek, Osmar R. Zaiane,

Meerkat: Community Mining with Dynamic Social Networks

, IEEE International Conference on Data Mining (ICDM), Sydney, Australia, December 2010 (System prototype demonstration);
Other Publications
Software
Community Evaluation, A framework available for evaluating community mining algorithms.
TopLeaders, Detecting the community/clustering structure in relational datasets
MeerkatED, Mining the Network of Students in Online Courses using social network analysis techniques
Links and Bookmarks