<!img class="logoaff1" src="preferred_logo_jpg_mcgill.jpg" alt="McGill" /> <!img class="logoaff2" src="Logo_Mila_horizontal.jpg" alt="Mila" />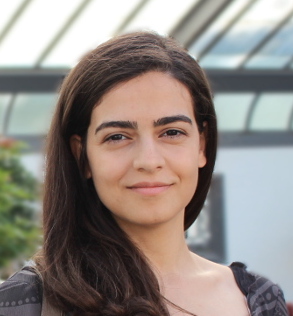 Reihaneh Rabbany
Canada
CIFAR
AI Chair,
Mila
Assistant Professor
School of Computer Science
McGill University
232 McConnell
rrabba[at]cs.mcgill.ca
(514)398[dash]3281
My research is at the intersection of network science, data mining and machine learning, with a focus on analyzing real-world interconnected data, and social good applications.
I have positions in my group (graduate students, interns, postdoc). If you are interested to work with me please check the information here and send me an email.
Teaching
COMP 596: Network Science, Fall 2019, syllabus
COMP 551: Applied Machine Learning, Winter 2020, syllabus
COMP 601: Colloquiums, Fall 2019 & Winter 2020, schedule
Group
Aayushi Kulshrestha, working on spotting human trafficking online
Junhao Wang, working on spotting bad actors in twitter around upcoming Canadian election
Refereed Publications
CV , Publication list on google scholar, dblp
Dhivya Eswaran, Reihaneh Rabbany, Artur W. Dubrawski, Christos Faloutsos,

Social-Affiliation Networks: Patterns and the SOAR Model

, Proceedings of the European Conference on Machine Learning and Principles and Practice of Knowledge Discovery in Databases (ECML/PKDD), Sep 2018;
Reihaneh Rabbany, David Bayani, Artur W. Dubrawski,

Active Search of Connections for Case Building and Combating Human Trafficking

, Proceedings of the 24th ACM SIGKDD International Conference on Knowledge Discovery and Data Mining (KDD), Aug 2018;
Reihaneh Rabbany, David Bayani, Artur W. Dubrawski,

Active Link Inference for Case Building Investigation

, NIPS workshop on Advances in Modeling and Learning Interactions from Complex Data, Dec 2017; ( Poster)
Reihaneh Rabbany, Dhivya Eswaran, Artur W. Dubrawski, Christos Faloutsos,

Beyond Assortativity: Proclivity Index for Attributed Networks (PRONE)

, Proceedings of the Pacific Asia Conference on Knowledge Discovery and Data Mining (PAKDD), May 2017; code on github
Reihaneh Rabbany, and Osmar R. Zaiane,

A General Clustering Agreement Index: for Comparing Disjoint and Overlapping Clusters

, Thirty-First AAAI Conference on Artificial Intelligence (AAAI), Feb 2017;
Reihaneh Rabbany, and Osmar R. Zaiane,

Generalization of clustering agreements and distances for overlapping clusters and network communities

, Data Mining and Knowledge Discovery Journal (DAMI), 29(5): 1458-1485, 2015; code on github ECML PKDD Slides ; publisher link
Reihaneh Rabbany, and Osmar R. Zaiane,

Evaluation of Community Mining Algorithms in the Presence of Attributes

, Quality Issues, Measures of Interestingness and Evaluation of Data Mining Models (QIMIE) Workshop, in conjunction with PAKDD, Ho Chi Minh City, Viet Nam, May 2015; ; publisher link
Christine Largeron, Pierre-Nicolas Mougel, Reihaneh Rabbany, and Osmar R. Zaiane,

Generating Attributed Networks with Communities

, Public Library of Science, PLoS ONE 10(4), 2015; ; publisher link
Siamak Ravanbakhsh, Reihaneh Rabbany, and Russell Greiner,

Augmentative Message Passing for Traveling Salesman Problem and Graph Partitioning

, Advances in Neural Information Processing Systems (NIPS), Montreal, Canada, Dec 2014; ; publisher link
Reihaneh Rabbany, Samira ElAtia, and Osmar R. Zaiane,

Mining Large Scale Data from National Educational Achievement Tests: A Case Study

, Data Mining for Educational Assessment and Feedback Workshop in conjunction with KDD 2014, New York City, Aug 2014; ,
Mansoureh Takaffoli, Reihaneh Rabbany, and Osmar R. Zaiane,

Community Evolution Prediction in Dynamic Social Networks

, 2014 International Conference on Advances in Social Networks Analysis and Mining (ASONAM), Beijing, China, Aug 2014;
Afra Abnar, Reihaneh Rabbany, and Osmar R. Zaiane,

SSRM: Structural Social Role Mining for Dynamic Social Networks

, 2014 International Conference on Advances in Social Networks Analysis and Mining (ASONAM), Beijing, China, Aug 2014;
Reihaneh Rabbany, Samira ElAtia, Mansoureh Takaffoli, and Osmar R. Zaiane,

Collaborative Learning of Students in Online Discussion Forums: A Social Network Analysis Perspective"

, Springer edited book Educational Data Mining: Applications and Trends, Springer Series: Studies in Computational Intelligence, 2013, ; publisher link
Reihaneh Rabbany, Mansoureh Takaffoli, Justin Fagnan, Osmar R. Zaiane, and Ricardo J. G. B. Campello,

Communities Validity: Methodical Evaluation of Community Mining Algorithms

, Social Network Analysis and Mining (SNAM) Journal by Springer, 2013; ; publisher link
Mansoureh Takaffoli, Reihaneh Rabbany, and Osmar R. Zaiane,

Incremental Local Community Identification in Dynamic Social Networks

, 2013 International Conference on Advances in Social Networks Analysis and Mining (ASONAM), Niagara Falls, Canada, Aug 2013; (longer version )
Reihaneh Rabbany, Mansoureh Takaffoli, Justin Fagnan, Osmar R. Zaiane, and Ricardo J. G. B. Campello,

Relative Validity Criteria for Community Mining Algorithms

, 2012 International Conference on Advances in Social Networks Analysis and Mining (ASONAM), Istanbul, Turkey, Aug 2012; ; publisher link
Also to appear at the Encyclopedia of Social Network Analysis and Mining by Springer, 2013.
Reihaneh Rabbany and Osmar R. Zaiane,

A Diffusion of Innovation-Based Closeness Measure for Network Associations

, the COMMPER Workshop on Mining Communities and People Recommenders, in conjunction with the IEEE International Conference on Data Mining (ICDM), Vancouver, Canada, December 2011;
Reihaneh Rabbany, Eleni Stroulia, Osmar R Zaiane,

Web Service Matching for RESTful Web Services

, 13th IEEE International Symposium on Web Systems Evolution, Williamsburg, VA, USA, September 30, 2011;
Reihaneh Rabbany, Mansoureh Takaffoli, Osmar R. Zaiane,

Analyzing Participation of Students in Online Courses Using Social Network Analysis Techniques

, 4th International Conference on Educational Data Mining (EDM'11), Eindhoven, Netherlands, July 6-8, 2011, ; publisher link
Jiyang Chen, Justin Fagnan, Randy Goebel, Reihaneh Rabbany, Farzad Sangi, Mansoureh Takaffoli, Eric Verbeek, Osmar R. Zaiane,

Meerkat: Community Mining with Dynamic Social Networks

, IEEE International Conference on Data Mining (ICDM), Sydney, Australia, December 2010 (System prototype demonstration);
Other Publications
Software
Community Evaluation, A framework available for evaluating community mining algorithms.
TopLeaders, Detecting the community/clustering structure in relational datasets
MeerkatED, Mining the Network of Students in Online Courses using social network analysis techniques